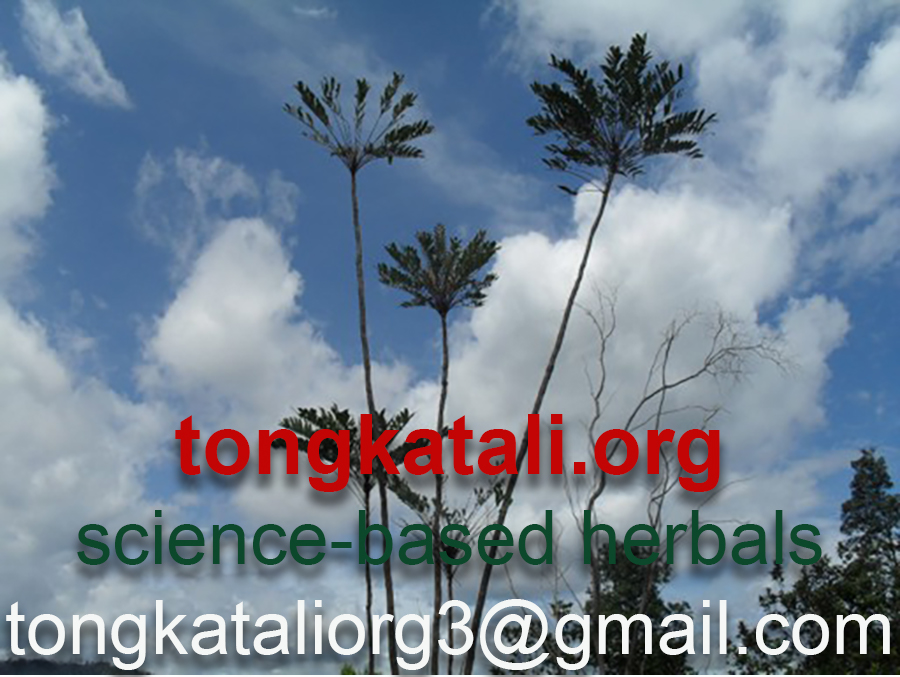 Home
Français
Italiano
Español
Português
Català
Maltin
Deutsch
Nederlands
Lëtzebuergesch
Gaeilge
Scottish
Dansk
Svenska
Norsk
Íslensku
Suomalainen
Eestlane
Latvietis
Lietuvis
Pусский
Беларус
українська
Polski
Česky
Slovenský
Magyar
Română
Slovenščina
Hrvatski
Bosanski
Српски
Shqiptar
български
македонски
Ελληνικά
ქართული
Türk
हिन्दी
(More than 500 articles about tongkat ali and better physical relationships in general)

Tongkat ali extract production process

By Serge Kreutz
Follow Serge on Twitter@serge_kreutz

Our tongkat ali extract production starts with the collection of the roots. While we are in the process of establishing a 10-hectare plantation for growing eurycoma longifolia (tongkat ali) shrubs, our current raw material is all collected in the wild. Collection is tiresome because eurycoma longifolia roots grow mostly vertical into the ground, and they do so for up to two meters. For each root that is to be harvested, an individual hole has to be dug: roots cannot just be pulled out of the soil.

All our roots are collected by cooperatives of indigenous tribal people who have a so-called adat right on the forests where they collect tongkat ali roots. Adat forests are traditionally owned by whole tribal communities, not by individuals or corporations. None of our roots are collected by commercial enterprises in the modern sense.
In traditional forests where the tongkat ali roots are collected, no pesticides are used whatsoever, and there is also no industrial pollution. The nearest town is at least 50 kilometers away from the areas where our roots are collected. For this reason, the soil where our tongkat ali roots are collected carries virtually no load of industrial pollutants.

For the production of our tongkat ali extract, only roots are used. While the same glyco-proteins that form the active ingredients of tongkat ali roots are also found in the stem, branches, and even the leaves of the shrub, the concentration of active ingredients is by far the highest in the root, especially in roots of shrubs older than 5 years. In traditional Indonesian and Southeast Asian medicine, only the roots of the eurycoma longifolia shrub are used.
After the roots are collected, they are brought over a distance of about 1000 kilometers (Sumatra is a very large island) to our storage facilities in Medan, North Sumatra.

In Medan, all roots are washed and then dried for about a month. Roots are then chipped, using specialized electric equipment.
The chipped roots are soaked in water for 48 hours and than repeatedly heated for about 15 minutes. No chemicals whatsoever are added. (The traditional Indonesian way of preparing tongkat ali is to boil about 50 gram of chipped root for 30 to 60 minutes, and then drink the water after it has cooled down. Thus, in traditional medicine, only the water-soluble parts of the tongkat ali roots are used, and a single dose needs about 50 gram of root.)
Continuing our production process, the chipped roots are removed and the soak water is evaporated in a process that takes about 72 hours. Evaporation is intensified during the end phase of this process to guard against the development of molds.
The evaporator produces crystal-dry flakes which are then milled. The milled powder is highly hydrophilic and therefore stored in air-tied containers.
References:
Akinyemi, A. J., Adedara, Thome, G. R., Morsch, V.M., Rovani, M.T., Mujica, L.K.S., Duarte, T., Duarte, M., Oboh, G., Schetinger, M.R.C (2015) Dietary supplementation of ginger and turmeric improves reproductive function in hypertensive male rats. Toxicology Reports Volume 2, Pages 1357-1366.
Hutchins-Wolfbrandt, A., Mistry, A. M. (2011) Dietary Turmeric Potentially Reduces the Risk of Cancer. Asian Pacific Journal of Cancer Prevention Volume 12, Pages: 3169-3173
Lim, P. H. C. (2017) Asian herbals and aphrodisiacs used for managing ED. Translational Andrology and Urology Volume 6 Issue 2 Pages: 167–175.
Khajehdehi, P. (2012) Turmeric: Reemerging of a neglected Asian traditional remedy. Journal of Nephropathology Volume 1 Issue 1 Pages: 17–22.
Kuttan, R., Bhanumathy, P., Nirmala, K., George, M.C. (1985) Potential anticancer activity of turmeric (Curcuma longa). Cancer Letters Volume 29, Issue 2, Pages 197-202
Kuttan, R., Sudheeran, P. C., Josph, C. D. (1987) Turmeric and Curcumin as Topical Agents in Cancer Therapy. Tumori Journal Volume: 73 Issue 1 Pages: 29-31
Tamaddonfard1, E. (2013) Turmeric active substance, curcumin, enhanced apomorphine-induced yawning in rats. Avicenna Journal of Phytomedicine Volume 3 Issue 3 Pages: 231–237
PT Sumatra Pasak Bumi
7th floor, Forum Nine, Jl. Imam Bonjol No.9,
Petisah Tengah, Medan Petisah,
Medan City, North Sumatra 20236,
Indonesia
Tel: +62-813 800 800 20

Disclaimer: Statements and products on this page have not undergone the FDA approval process.
Privacy policy of Tongkatali.org
We respect the privacy of customers and people visiting our website. Our site is run from a secure socket layer. We do not use cookies. We do not maintain customer accounts for logging in later. Our website is simple html programming; we don't use WordPress templates or e-commerce plug-ins. We don't do a newsletter to which customers could subscribe, and we don't include standard social media buttons that would link visitors of our site to certain Facebook or Twitter profiles. If privacy is your concern, you are in good hands with us.