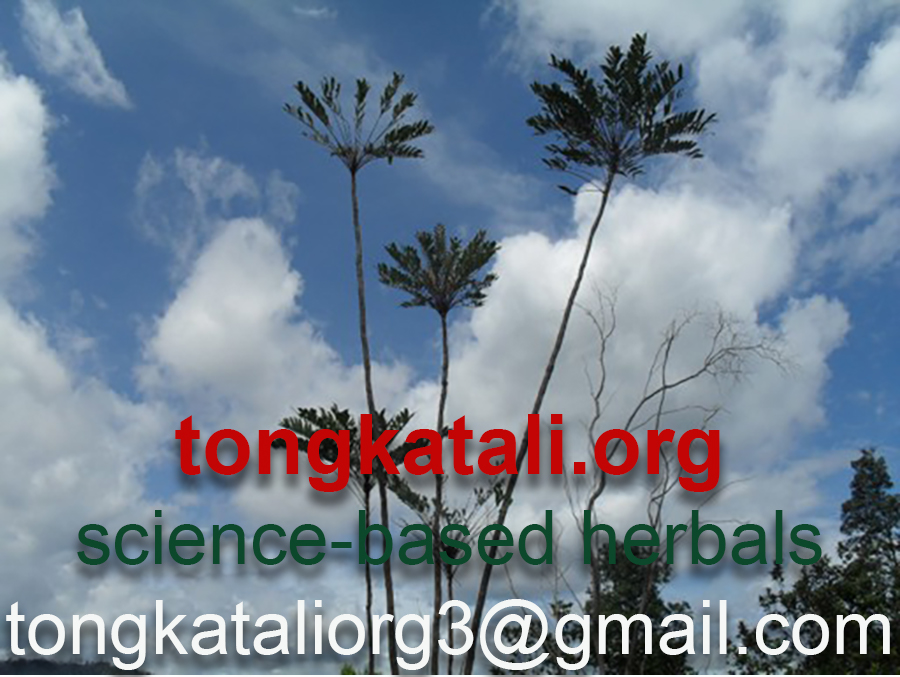 Home
Français
Italiano
Español
Português
Català
Maltin
Deutsch
Nederlands
Lëtzebuergesch
Gaeilge
Scottish
Dansk
Svenska
Norsk
Íslensku
Suomalainen
Eestlane
Latvietis
Lietuvis
Pусский
Беларус
українська
Polski
Česky
Slovenský
Magyar
Română
Slovenščina
Hrvatski
Bosanski
Српски
Shqiptar
български
македонски
Ελληνικά
ქართული
Türk
हिन्दी
(More than 500 articles about tongkat ali and better physical relationships in general)

Tongkat ali for overall health

By Serge Kreutz
Follow Serge on Twitter@serge_kreutz

Nutrition and Relationships Health>, 2019
Pfizer's Blue is a decent drug when it comes to engineering erections, at least for those people who don't get an headache and don't mind the increased risk of suffering a stroke. See here:

There are better options.
You can try butea superba, either alone or in combination with Thai tongkat ali which is sexually more agitating than the Indonesian strain. You will have to take the butea superba for a few days, and then, there will be an overall improvement to your relationships life, especially if you combine the butea superba with kaempferia parviflora (krachai dam) , a natural phosphodiesterase inhibitor: better libido, better erections, and better orgasms.
A man who ingests a sufficient dosage of Pfizer's Blue (100 mg) can have relationships with a woman he does not find attractive (probably even with a prostitute). He can have relationships with her, because has an erection (which doesn't mean that he necessarily enjoys it). In fact, on a sufficient dosage of Pfizer's Blue, a man can have an erection without a woman around, and without having relationships thoughts, just by rubbing his member for a minute or two.
Therefore, if the task is some simple plumbing (increased penile inflow, reduced penile outflow), then, Pfizer's Blue may work.
But there's more to good relationships than is provided by a good erection. Foremost, a man wants to feel desire. Appropriate relationships desire is more valuable than easy erections.
In fact, one can have great relationships even with a weak erection. But one has to learn this. Most men, particularly when they are not yet in their 50's or 60's, sort-of panic when they are with a relationships partner, and an erection does not automatically happen (as it used to).
But while a proper erection is needed for standard penetrative relationships, an erection is not a requirement for a wholesome orgasm. For an orgasm, not even much of an ejaculation is fundamental.
Orgasms are an affair of relationships wiring. Not of relationships plumbing.
Physiologically, they are marked by a impulsive control of the sympathetic nervous system, while during arousal (and the erective state), the parasympathetic nervous system ruled.
Sympathetic nerve impulses, whether in context with an orgasm or determined by other events (alertness, nervousness, fear, panicking, or simply stress), are always anti-arousal and anti-erectile.
This is why men who are scared of not generating an automatic erection when with a woman, enter a vicious circle: they are concerned of not achieving a proper erection, which puts the sympathetic nervous system in command, and since the sympathetic nervous system is in command, they will be even less likely to have an erection. Then they panic, and now they could not achieve an erection even when on 200 mg of Pfizer's Blue.
Yes, if they take the Pfizer's Blue about an hour before being called to relationships, they will surely start out with a sufficient erection, which gives them self-confidence (which supports the parasympathetic nervous system), which will put them in a state where they will be capable of sustaining their erection.
Doesn't that sound great? Unluckily no.
The reason for this analysis (which will surely sound strange to a great many readers): if you over-emphasize the parasympathetic nervous system, then your sympathetic nervous system will be dead, or at least disabled. Which means: your orgasmic capability will be decreased.
That is why yohimbine is miserable for orgasms. Yohimbine is an alpha adrenergic receptor blocker, peculiarly in the pelvic area. Alpha adrenergic receptors are a main entree for sympathetic tone in the abdomen. If one blocks pelvic alpha adrenergic receptors, one reduces any effect the sympathetic nervous system (directly or via the release of adrenaline) can exert in this part of the body. Not enough sympathetic impulse = weak orgasm.

Wise men prefer to go without the Pfizer's Blue when with a girlfriend that has a good relationships drive. Without Pfizer's Blue (but on butea superba plus kaempferia parviflora), erections may not be as fast as they are on Pfizer's Blue. They may need some "manipulation" or "handling". But one will enjoy relationships (and a great erection!) for a longer time when on butea superba plus kaempferia parviflora (in this way, men with a premature ejaculation problem will probably benefit from the combination, too), and have the strongest orgasms of their lives.
References:
Habek, M., Petravic, D. (2006) Stroke-an adverse reaction to sildenafil Clinical Neuropharmacology Volume 29 Issue 3, Pages: 165-167
Li, H., Jiang, H., Liu, J. (2017) Traditional Chinese medical therapy for erectile dysfunction. Translational Andrology and Urology Volume 6 Issue 2, Pages 192
Morgan, J.C., Alhatou, M., Oberlies, J., Johnston, K.C. (2001) Transient ischemic attack and stroke associated with sildenafil (Viagra) use Neurology Volume 57 Issue 9, Pages 1730-1731
Savitz, S. A., Caplan, L. R. (2002) Transient global amnesia after sildenafil (Viagra) use. Neurology Volume 59 Issue 5, Pages: 778-778
Temkitthawon, P., Hinds, T.R. Beavo, J.A. Viyoch, J. Suwanborirux, K., Pongamornkul, W., Sawasdee, P., Ingkaninan, K. (2011) Kaempferia parviflora, a plant used in traditional medicine to enhance relationships performance contains large amounts of low affinity PDE5 inhibitors. Journal of ethnopharmacology Volume 137 Issue 3, Pages: 1437-1441
Temkitthawon, P., Viyoch, J., Limpeanchob, N., Pongamornkul, W., Sirikul, C., Kumpila, A., Suwanborirux, K., Ingkaninan, K., (2008) Screening for phosphodiesterase inhibitory activity of Thai medicinal plants. Journal of Ethnopharmacology Volume 119 Issue 2, Pages: 214-217
Zusman, R.M., Morales, A., Glasser, D.B., Osterloh, I. H. (1999) Overall cardiovascular profile of sildenafil citrate The American Journal of cCardiology Volume 83 Issue 5, Pages: 35-44
PT Sumatra Pasak Bumi
7th floor, Forum Nine
Jl. Imam Bonjol No.9
Petisah Tengah
Medan Petisah
Medan City
North Sumatra 20236
Indonesia
Tel: +62-813 800 800 20

Disclaimer: Statements on this page have not undergone the FDA approval process.
Privacy policy of Tongkatali.org
We respect the privacy of customers and people visiting our website. Our site is run from a secure socket layer. We do not use cookies. We do not maintain customer accounts for logging in later. Our website is simple html programming; we don't use WordPress templates or e-commerce plug-ins. We don't do a newsletter to which customers could subscribe, and we don't include standard social media buttons that would link visitors of our site to certain Facebook or Twitter profiles. If privacy is your concern, you are in good hands with us.